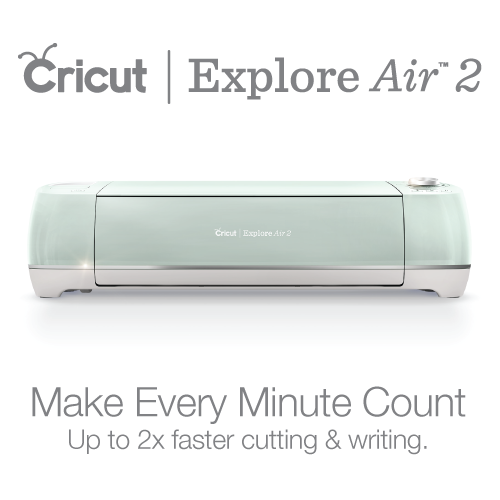 Since you guys don't know me I'll just tell you, I am probably the least crafty person alive. I can't color inside the lines, I can't draw a circle and I once knitted a blanket with my arms that had way too many holes in it to even qualify as a blanket. Here is my Cricut Explore Air 2 review.

Disclosure: This post may contain affiliate links. If you click on this link and make a purchase I may receive a commission at no extra cost to you.
Honestly I was obsessing over the crafts people were making on Pinterest and my friend had so many things in her house that were made using it I couldn't resist. Also it was on sale and I needed to find a new hobby.
What is it?
The Cricut Explore Air 2 is an electronic craft cutting machine. It is designed to be super fast and has many different features .
What comes in the box?
I did not purchase a bundle but I definitely wish I did as they come with lots of extras and are a great value.
In the box it came with
Cricut Explore Air 2 machine
Power Cord
USB cord
Blade and housing which comes already installed
Quick start guide
12 x 12 LightGrip mat
2 small cardstock for your first project
Pen and accessory adapter which is also installed already
The bundles come with extra mats, tools, vinyl and more. Definitely a good value
What does it look like?
I got the Periwinkle model but it also comes in Pale Pink, Pale Blue, Candy Apple Red and a variety of other colors. Basically a color for everyone!
I think it looks super sleek. On the right hand side you have the dial to select your material the Load button and the Go and Pause button. On the left hand side is the Open button as well as a compartment to store your tools.
Press the open button and discover to more compartments that can be used to store your tools.
Set up
The set up is super easy plug it in and follow the Quick Start guide. Shouldn't take you too long.
What can it do?
This is the ultimate crafting machine. It can cut paper, cardstock, poster board, vinyl and more.
Like I said I am not too crafty so I haven't gone too crazy yet so check out here inspiration page!
What did I make?
Alright again I'm no crafting wizard but so far I have made a few things.
The first thing I made was this fancy wine glass 😋.
Then I made a car decal with a sloth on it because the are my favorite . I haven't got it on my car yet but it is super cute.
Then I got a little bit more adventurous and made these glitter Christmas bulbs.
Now if your talented I'm sure you can make many more awesome things but I'm just a beginner so this is all I managed so far.
Should I get Cricut Access?
It comes with a free trial but I would recommend it for beginners . It allows you to use lots of fun designs and cool fonts with Design Space. For $9.99 a month or $7.99 if you pay for it yearly it is worth it for me.
Get your Cricut Access Premium subscription here!
What if I'm not a beginner crafter?
If you are more advanced or looking to cut more materials such as wood I'd check out the Cricut Maker.
This is perfect to make homemade gifts for your family and friends for any occasion!